Sunday 17th November – 10am to 2pm – 37 Margaret St, Carnegie
Another great chance for you to declutter in a (relatively) environmentally friendly way!
Bring along anything on the list below that you no longer need. We'll arrange for items to be reused, repurposed or recycled (See our Recycling page for what we do with them.)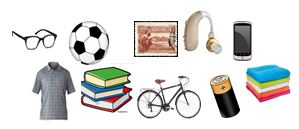 Batteries
Bicycles
Bras & swimwear (new & used)
Children's books, atlases (without USSR), dictionaries & encyclopedias from 2005 onward
Clothing, shoes & toys in good condition, especially men's clothing, women's plus-sized clothing, sleepwear, clean, unstained bedding, socks (clean/near new)
Other clothing, handbags, accessories
Computers & IT equipment, cables, printers, laptops, LCD screens, switches, tablets…
VCR, DVD & CD players, electronic games/toys, stereos, ipods
DVDs, CDs, VHS, cassette tapes & cases, floppy disks, printer cartridges, toner bottles
Electrical appliances
Cameras, video cameras, projectors
Fabric (pieces A4 or larger) & wool
Glasses (for distance & reading)
Hearing aids
Light globes – incandescent, compact fluorescent, downlight & fluorescent tubes
Mobile phones, batteries, chargers & accessories
Musical instruments (guitars, violins, percussion, recorders, etc)
Reusable shopping bags
Sporting equipment in good condition – sports shoes/boots, balls, bags, bats, racquets, gloves, helmets, etc
Toiletries or essentials (unopened) that anyone in need may require
Towels, blankets, flat sheets, pillowcases, pet accessories [NOT pillows or cushions]
Used stamps (from envelopes)
X-rays
You can download a copy of this list here.
Note that our Recycling page lists where you can take these and many other things at any time of the year.